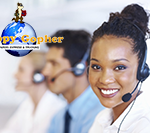 Flexibility and responsiveness are at the center of our approach to customer service. And with our focus on continual refinement of service delivery, checked against standards of quality and internal benchmarks, we've taken customer service to the next level.
In short, our highly committed employees along with our understanding of customer needs mean we have the flexibility to deliver whatever
it is you need.
HGPE's track record of Quality Service is personified by its long lasting partnerships with its clients. HGPE listens to the needs of its clients, designs delivery systems to address needs identified, and executes as specified under its contract agreements.
For More information
Main: 314-381-1401
Fax: 314-355-6464